Astrid Winkelman
Not a coach, not a trainer, but THE COACH, not only experienced and smart, but with heart, charisma and total dedication to the passion of her life – Figure Ice Skating. She sets very high goals (Sky is the Limit!), does not waste a single minute or a single bit of energy to think of obstacles or possible problems. She does not move forward – she flies forward and all the way up, inspiring and taking on board with her those lucky ones , who had a chance to meet her and get under her wing.
Of course, human relations is something very personal, but in case of Laura it was an immediate, almost mysterious connection. Laura got attached to Astrid like a chewing gum to a shoe 😉 right away she came across her – in Den Haag summer camp 2019 of KSVH.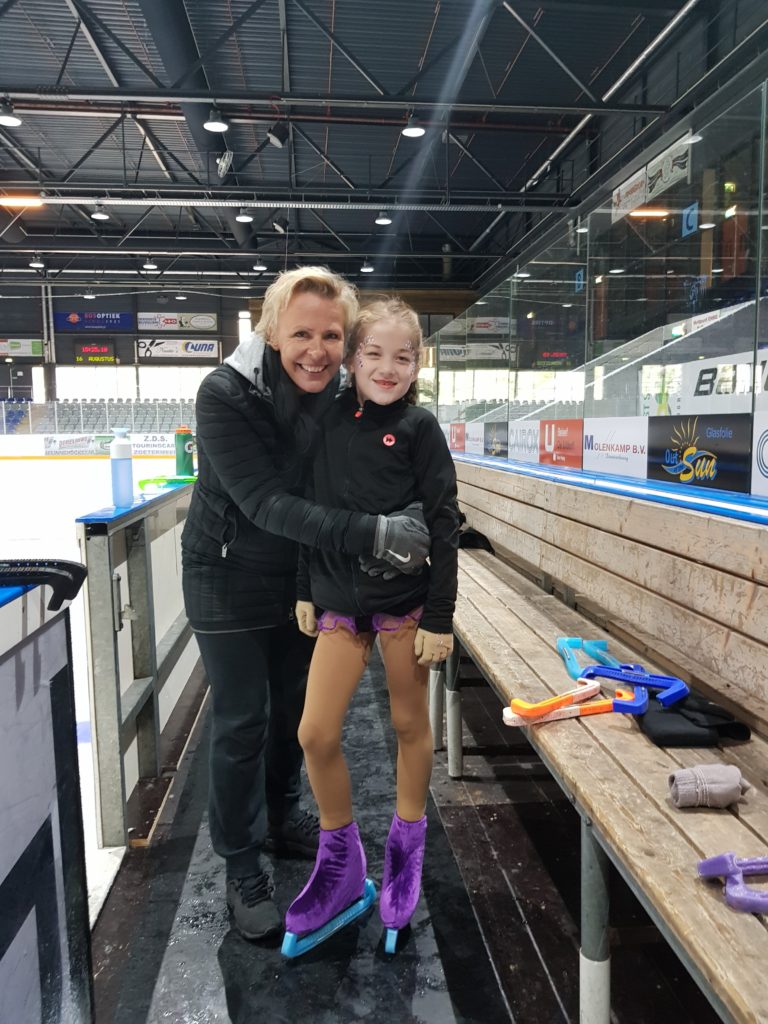 When been picked up from the camp, Laura was silent and thoughtful. She approached me next day only: "Mama, I need to go to that club where Astrid is, because I adore her and I want to train only with her. Please, PLEASE, promise me that you will make it happen."
I was in quite a shock… It started from simple, twice a week ice and ballet trainings by KVH club in Hoorn and it suddenly came to the point of having to make a real decision: not only seriously adjusting our budget to pay very high monthly costs, but also organising the daily routine and life schedule of the whole family in a completely different way – to enable taking Laura 5 times a week from Hoorn to Haarlem to the hours-long trainings.
Laura is not a very open person. She does need time with people, is an observer and pretty always can define very precisely and briefly can put into words what she wants or feels.
Question: "WHY Astrid?" Answer: 'Because I like tembre of  her voice. Because I like the way she looks at me. Because she is sweet and strict at the same time. Because she is energetic but very calm. Because she is MY TYPE OF A PERSON and I trust her."
I do believe, such a match was meant to be and this is only the beginning of the beautiful road they are going to make together.
I do believe, everything happens for a reason and one of the most important things you can do in life is to put own vanity and self comfort on the backstage and prioritise helping somebody following his/her dream.
I do believe, technical skills, hard working potential and means to afford better conditions are important, but they are just not enough without right people to support you, believe in you and making you totally concentrate on your dreams and talents, leaving no space for fear facing any challenge.
Laura, being still such a little girl, already chose her path and her coach. She is with Astrid not because she is famous and one of the best in the Netherlands or not because it was convenient in any way, but because she listened to her heart. And we decided to listen to our daughter.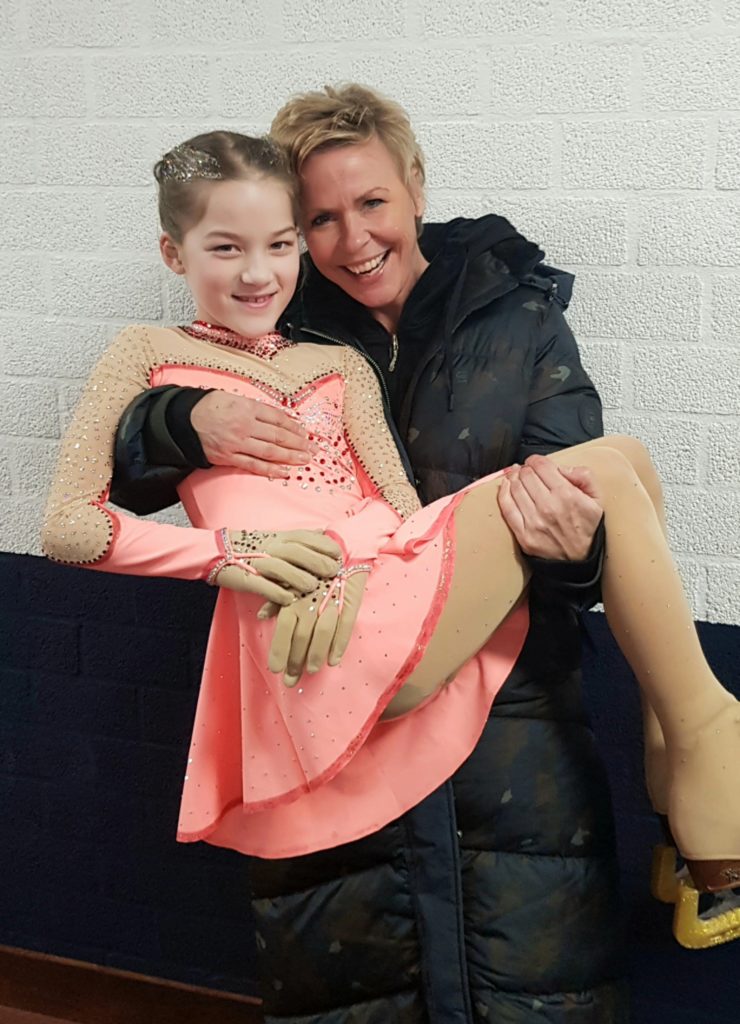 Laura trains with Astrid hours long – replacing playing with friends or going out and doing whatever cool entertaining things the 9 y.o. girl could do- and does not get (?) tired: she starts and leaves every training with the smile and happy light in her eyes. What can be more important?
Joyce den Hollander
Joyce is such a kind and warm person, that one might take while to understand and only admire how it can be combined inside of her with the sparkling star and the amazing show girl she is!
Laura trains with Joyce twice a week and – if you come to watch – you will immedeately feel THESE HOURS are about finding inner balance and concentration and whatever moment you fail to success in the trained element, just look into Joyce understanding eyes where you find all the kindness of the Universe smiling back to you to support.
Do you believe it's the same girl – the Ice Shows' absolute DIVA? Check out the amazing videos and more Info on Joyce official website:
http://www.joycedenhollander.nl
Joyce supervised Laura during the Willem II Cup in Tilburg (2-Feb-20). Mentally Laura still did miss her beloved Astrid, but she did have so much fun with Joyce!!! What a great fit to Astrid team XxX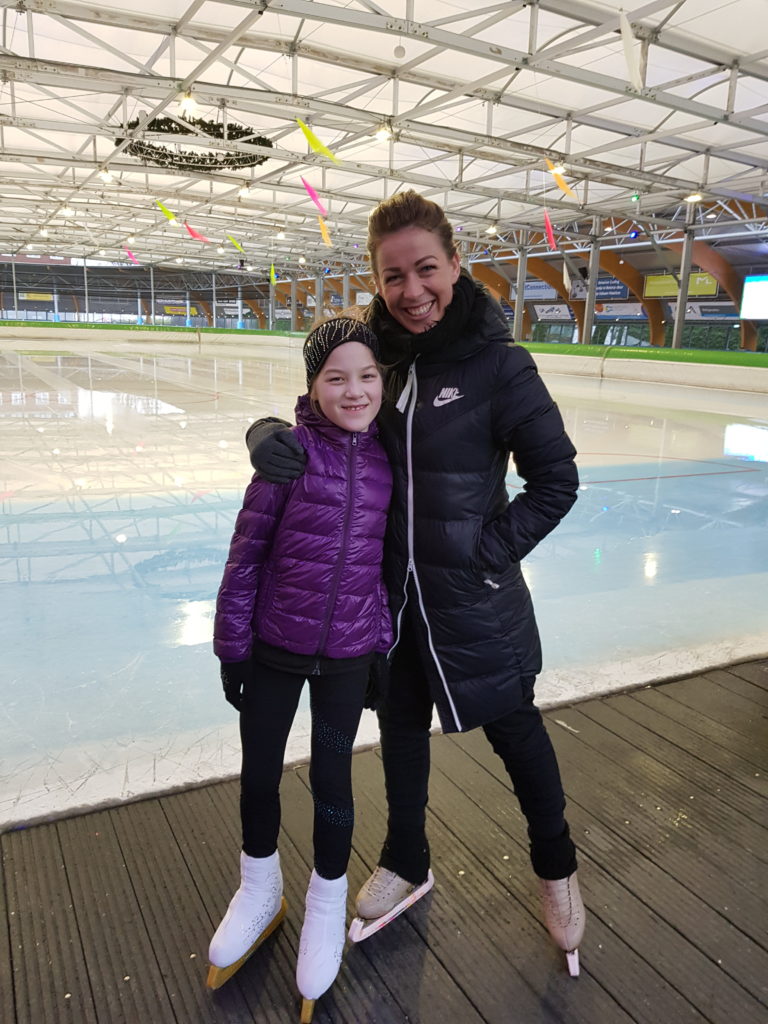 Yuri Tishkov
The man people talk a lot about, but you doubt you will ever have a chance to catch. We were the lucky ones!
Once you got hitted by Yurij's big heart and totally overwelming passion for figure ice skating, you do not have much choice but to check of how and where you can chase him further for any beat of his attention and masterclasses.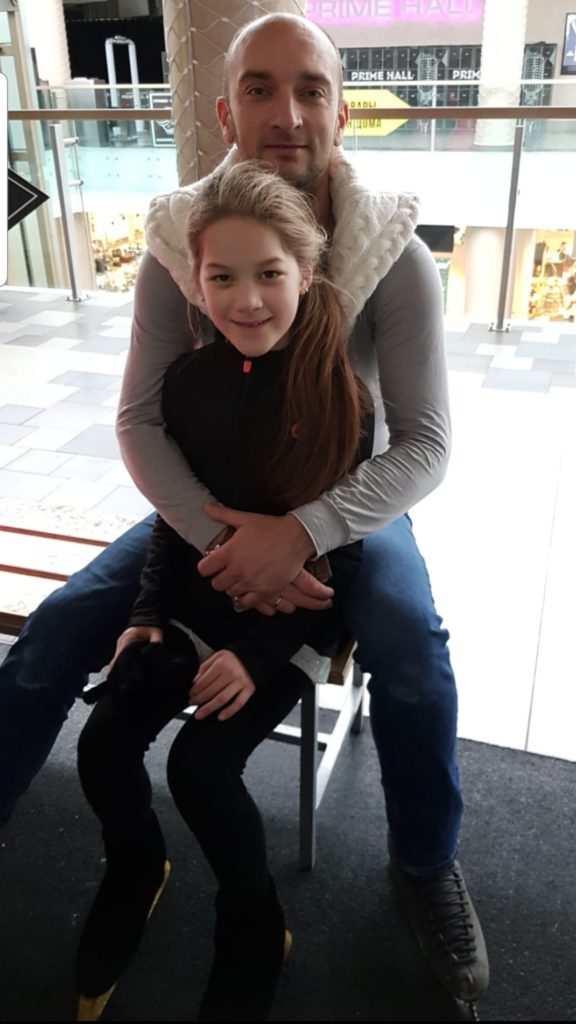 Being very little experienced mother of the figure isce skater, one thing I intuitively felt practically from the beginning is that it's always good to come out of the box and do some masterclasses with diffrerent qualified coaches: it does open the mind and bring some extra value and new tips. NO DOUBT, you do have to stick to your chosen coach – always being in agreement with him/her – the child needs to have THE COACH (in our case its Astrid) who feels it under skin level…who gives stability and safety feeling, who knows the child on the practically daily basis and is on the same vibe! Otherwise, you cannot move forward fast – heart to heart – with the synergy effect (1+1=3) and you cannot achieve… If you are lucky enough and you have the coach of your heart, who is additionally smart and sensible, such a coach will only support 'going out of the box' and SHARING knowledge, experience and passion.